Middle Yough River, Lake Rentals, and SUP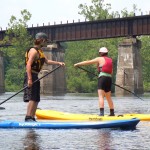 Yough Lake 1/2 Day (4 hrs from 9-1 pm or 2 pm -6 pm)   Cost $30 (+ tax for Lake)
Includes SUP board, paddle, PFD, and helmet if needed                  Transport Fee for Lake: $10 (If you do not have a Roof Rack or Truck)
Riversport was the first to introduce the latest sport of SUP to the Yough Valley. What a better way to incorporate the fun of surfing and kayaking into one? We rent a variety of SUP boards for you to try out on flatwater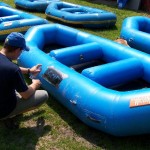 Cost $99 per Raft (+6 % tax & a $5.00 state park fee per person) Holds 4 Adults /or 2 Adult with 3 kids
Length 5-6 hours
Launch Each Hour at 9 AM/ 10 AM / 11 PM (Please let us know a time when you call to Reserve) After 1 p.m. try the Mini Float Canyon 2 mile trip
This section of the Yough consists of approximately nine class II rapids in its ten-mile journey to Ohiopyle. The easy Class II rapids are separated by long slow pools and class I riffles. This is a very easy and laid-back raft trip suitable for the entire family. It takes between four and six hours and has many nice swimming holes as well as beautiful resting spots for a nice shore lunch.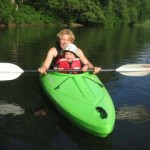 Cost River Trip $49 Single Person or $69 Tandem 2 Person Kayak (+6% tax & $5 state park fee per person for Middle Yough)
Length 4 hours to Ohiopyle Take Out
Launch 9AM – 1PM for Middle Yough
Yough Lake Cost $39 Single or $49 for Tandem Kayak/ Canoe –All Day Use return by 6 pm.
Transportation Fee– $10 Let Riverport Deliver and Pick up your Kayak at Lake Launch Area if you do not have a Roof Rack or Truck
Looking for more excitement? These boats are easy to use and behave much like whitewater kayaks without the hassle of learning wet exits, kayak rolls, and proper strokes. These kayaks are hard plastic and therefore they track and behave much better than the "duckies" that others rent. Plus, they provide comfortable seats for your trip and a "wheel" to easily transport to and from the river. Reserve these in advance as we frequently rent all these out. They are our most popular boat. Paddles and Personal Floatation Device with a Dry Bag included.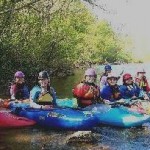 Cost $69 -2 People (+6 % tax & $5 state park fee per person)
Length 3-4 hours to Ohiopyle Take Out
Launch 9AM – 12PM
Want to paddle with a friend, or feel more confident with another paddler? Try Tandem Kayaks down the Middle Yough Gorge. This challenging trip is unparalleled in scenic beauty and exciting easy rapids for kayaking. We offer the Feel Free Gemini Tandem Kayak that has an easy transport wheel.  Dry Bag Included with PFD, and Paddle.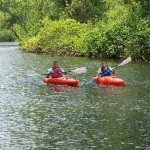 Cost is 1/2 the cost of our full 10-mile Yough River trip
Single Kayaks ($35) + 6% Tax
Tandem Kayak ($49) + 6% Tax
Rafts (4 Adults) ($49) + 6% Tax
Length 2 miles with times of 30 minutes to a 1.5-hour trip is you stop to swim)
Ability – Beginner
Ages- 2 and up
Launch- Please call for availability and times to rent
An easy flatwater float trip from our store to Ram Cat Trail Head. There is no time limit. No reservations will be taken for these mini-float trips. Very scenic with natural History along the way.  See where the Confluence of the Casselman and Laurel Hill meet to join the Yough River.  Also, you can see the ridge line, where George Washington surveyed this area and named the region Turkeyfoot Valley.
***Please drop all participants and trip items at our store location first.  Then, we will have the driver (s) follow our shuttle vehicle to the takeout at Ram Cat Trailhead. There you will be instructed on where to take out and leave your equipment.  You will ride back with the shuttle driver to the launch area at our store.  Best part is your vehicle will be at the takeout & you can take your time paddling down to enjoy swimming, fishing, or exploring the "Turkeyfoot" confluence of rivers.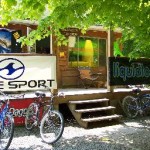 Cost- $10 per Hour or $60 for a 8-hour Day 
Located on the GAP Trail We rent comfortable cruiser Trek bicycles for you to enjoy our great rails to trails bike path system. One of the most scenic rides of this trail begins in Confluence right from our store location and goes to Ohiopyle (9 miles.) The river can be seen practically the entire way. While you bike, you will discover the natural history of the Turkeyfoot Valley where George Washington did surveying, and travel along the old rail system that would transport goods up and down the Yough Valley. Watch for paddlers up and down the river, as they run class II rapids like Ram Cat, and Z Rapids.