(DCNR State Park XC Ski Concession Operated by River Sport)
Laurel Ridge XC Ski Center is located on one of the highest mountain ridges in the Laurel Highlands region of Southwestern Pennsylvania. Our ski center operates out of Laurel Ridge State Park's concession building managed by the Laurel Hill State Park DCNR of Pennsylvania.  Our main ski trails are groomed for skate skiing and tracks set for classical skiing.
XC Ski Center Phone Number 724-455-7303
Ski Conditions- 724-455-7303 (updated Daily Depending on Operations and Snowfall)
Laurel Ridge Facebook page https://www.facebook.com/Laurel-Ridge-XC-Ski-Center-149661515089340/
Laurel Hill State Park Office (814)-455-8673
Address:
Laurel Ridge State Park (Route 653)
1101 Jim Mountain Road
Rockwood, PA 15557
(Located off Route 653)
Seasonal Operation:
Open December through April
(As the weather conditions permit)
Download the full brochure HERE.
Web Cam provided courtesy of PACCSA.org or https://www.paccsa.org/webcams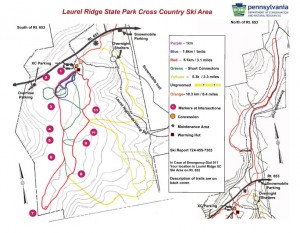 XC Ski Center and Trails Operates Daily: Friday through Monday 9-5 pm. Park Closes at Dusk.
Main Ski Center Concession Building: Ski Pass Sales are offered at the Window. Rentals and Bathroom Use for the 2022-2023 Season will be available but Entry will be Limited to a Specific Number of Guests in the Building. 
**Access will be limited in main concession by the DCNR and State.  TBD
Upper Smaller Ski Building: Open Every day with Bathroom Facilities.
Hours of Operation: 9 am to 5 pm (Trails are open) Friday through Monday except. Depending on Snow conditions, we are open the Week of Christmas and New Year's weather permitting.  Closed Christmas Day
(Trail Pass Required)- all Trails are groomed on a daily basis depending on condition and snowfall. 
XC Ski Trail Fee: $15 for Adults ——$10 For 12 and Under
XC Ski Trail Season Pass 2022: $175 for Adults——–$100 For 12 and Under
(Early Season Discounts in November Season Pass $125 & Super Saver 6 Pack of 6 Passes for $75)
XC Ski Rental Rates: $20 for Adults———$10 for 12 and Under
Snowshoe Rental Rates: $25 for Adult———$10 for 12 and Under (includes trekking poles only – No footwear provided.  We recommend a Winter Boot)
The Main Building Rental Concession closes at 5 pm (Park Closes at Dusk and Patrolled by LR State Park Rangers)
****There is a additional $20 late fee charged for any return of equipment after 5 pm****. 
Information
Km of Trail: 30 km of trails (Yellow and Black Trail Sections are Natural and Ungroomed)
Trail systems:
Orange Trail 10.6 Km or 6.1 miles (Dog Friendly)
 Green Trails are connector trails: Different length of sections .5 miles up –to 1.5 miles
Red Trail 5 Km
(For this Ski Season a new beginner bypass trail on the 1st Downhill has been established by a Eagle Scout for his final project) 
Yellow Trail 9 Km (Sections are ungroomed for Backcountry Experience) 
100% Terrain good for Classical Skiing
70% Terrain Suitable for Skate Skiing
85% Beginner to Intermediate Terrain
15% Advanced to Expert terrain
 (Trail Pass Required)- all Trails are groomed on a daily basis depending on condition and snowfall.  
Ski Instruction:     Check with PACCSA for Free Scheduled Lessons on Weekends